Wake the Town and Tell the People – Caribbean on film in the 1970s
A cinematic event forty years in the making….
Wake the Town and Tell the People – Caribbean on Film in the 1970s
The newly minted territories of the Caribbean navigate local and international political and economic minefields while refashioning their social and cultural landscapes in the turbulent decade of afros, dashikis, guns and embargoes.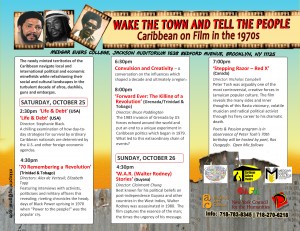 Saturday, October 25
2:30pm: 'Life & Debt' (USA – 80 min). Director: Stephanie Black.
A chilling examination of how day-to-day strategies for survival by ordinary Caribbean nationals are determined by the U.S. and other foreign economic agendas. Post screening conversation with filmmaker Stephanie Black.
4:30pm: ''70 Remembering a Revolution' (Trinidad & Tobago – 114 min). Directors: Alex de Verteuil; ElizabethTopp.
Featuring interviews with activists, politicians and military officers this revealing; riveting chronicles the heady days of Black Power uprising in 1970 when "Power to the people!" was the popular cry.
6:30pm: Convulsion and Creativity – A conversation on the issues and influences which shaped a decade, a region and the resulting cultural expression with Pat Belcon, PhD (Trinidad & Tobago), Merle Collins, PhD (Grenada)and others
8:00pm: 'Forward Ever: The Killing of a Revolution' (Grenada/Trinidad & Tobago – 113 min). Director: Bruce Paddington
The 1983 invasion of Grenada by US forces echoed around the world and put an end to a unique experiment in Caribbean politics which began in 1979. What led to this extraordinary chain of events?
Sunday, October 26
4:30pm: 'W.A.R. (Walter Rodney) Stories' (Guyana – 88 min). Director: Clairmont Chung.
Academic and political leader, Walter Rodney was assassinated in 1980. The film captures the essence of the man; the times the urgency of his message. Post screening conversation with filmmaker Clairmont Chung.
7:00pm: 'Stepping Razor – Red X' (Canada – 103 min)
Peter Tosh was arguably one of the most controversial, creative forces in Jamaican popular culture. The film reveals the many sides and inner thoughts of this Rasta visionary, volatile musician and radical political activist through his fiery career to his dramatic death.
A special Poets & Passion open mic program hosted by poet, Ras Osageyfo will be held in observance of Peter Tosh's 70th birthday following the screening.