VP RECORDS ANNOUNCES THE SIGNING OF U.K. ARTIST CULAN- REMIX TO "EASY TO LOVE YOU" FEATURING KONSHENS, LEAD TRACK OFF REGGAE GOLD 2018
VP Records is proud to announce the signing of London based artist and producer Culan. Culan came to the attention of VP Records A&R Richard "Shams" Browne in the process of compiling the VP Records compilation Strictly The Best Vol. 57 with the song "Easy To Love You", which had already scored 1 million streams on Spotify, but was not known in reggae dancehall circles. Beside this, Culan's revision of the Ed Sheeran hit "Shape of You" had garnered over 7 million views on Facebook and great numbers on YouTube in just a few weeks and a new single "Merengue" was also gaining support from the artists Facebook following (now over 60k).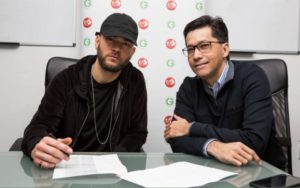 "I liked 'Easy To Love You' right away" said VP Records President Randy Chin, "the more I researched Culan, the more I thought he could be a great addition to the VP roster. The U.K. music scene is exploding internationally and I can see Culan hitting in the U.K. and with our 'core' reggae audience."
Over the following months, the label collaborated with Team Culan (Managers Chris Hunte and @iyahj) in order to prepare for the next step, a remix of "Easy to Love You" featuring dancehall star Konshens. With all the right ingredients; seductive riddim, flirty lyrics, Culan's raspy vocals and Konshens gritty panache, "Easy To Love You Remix" is shaping up to be a notable Summer 2018 jam.
Premiering today on music news site AXS, the song will be released June 1st as the lead track (and instant-grat) from Reggae Gold 2018 – 25th Anniversary Edition. The music video for "Easy To Love You Remix" is scheduled for June.
"It was great to link up with Konshens on the remix, I've always thought he was a dope artist and I'm happy it can be a part of the legendary Reggae Gold compilation series this year," said Culan of the collaboration and being on Reggae Gold 2018.
"We're excited to get things going with Culan, with the video and a lot of promotions lined up this summer" said Stephen Chin, VP project manager, "Culan brings some great assets to the table and we're ready to make it happen."