Ultimate Rejects Unleash Two New Caribbean Dance Hits
Caribbean dance music (CDM) masters Ultimate Rejects unleash two new electronic hits by MX Prime with "Up Dey" and "Everybody Bounce," both available worldwide from all major digital retailers on May 6, 2016, with pre-order available now, from FOX FUSE.
Ultimate Rejects incorporates Caribbean sounds with electronic dance music (EDM) to create CDM. The DJ unit consists of hit soca producer Johann Seaton of MadMen Productions and Edghill "MX Prime" Thomas, a soca artist and radio personality and deejay from Trinidad.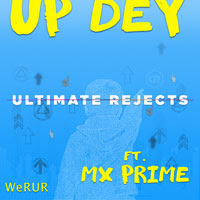 "Up Dey" and "Everybody Bounce" are both high-energy dance tracks that shine a spotlight on dance and EDM music originating from the Caribbean. "They were just fusing jungle tones, electronic synths and Caribbean drums with MX Prime's vocals, which really brought it home to the CDM sound," Seaton discloses. "So to me, this is creating more content for our CDM genre."