Stockroom Productionz: Boss Wuk Riddim
Stockroom Productionz drops its new compilation Boss Wuk Riddim, now available worldwide from all major digital retailers (released June 24, 2016), from FOX FUSE. Born in St. Vincent and the Grenadines and based in New York, head producer Shemuel "Stamina Smurf" Thomas delivers this new collection from Stockroom Productionz, for Vincy Mas 2016 and now shares those island vibes with fans everywhere.
The electrifying album was featured on the iTunes U.S. homepage during its week of release, placing the production house in the international spotlight. It features five tracks, including hits from Stamina Smurf, Lavaman and Blama.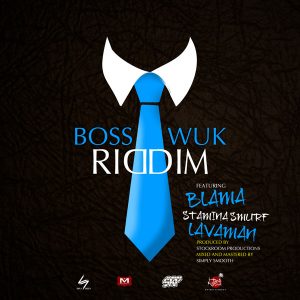 TRACK LIST
1. Blama – Rum Head
2. Stamina Smurf – So Cocky
3. Stamina Smurf – So Cocky (Radio)
4. Lavaman – !? (Unknown)
5. Stockroom Productionz – Boss Wuk Riddim (Instrumental)