Reggae Stars Attend Private Reception to Honor NYC Music Executive Chris Chin
Kingston, JA: Some of biggest stars in the reggae industry including singer Beres Hammond, Capleton, Chronixx, Etana, Nadine Sutherland, Ibamar, Lloyd Parks and Queens Ifrica were in attendance at a private reception on Heroes Day, at the Pavilion at Hope Gardens in Kingston, Jamaica to honor VP Records' executive Christopher 'Chris' Chin. Earlier that morning, Chin was the recipient of the Order of Distinction in the rank of Commander (CD) from the government of Jamaica for outstanding work in the music industry both locally and internationally.
Chris has accomplished much in the music industry, expanding the Jamaica Ave record store into a major distribution outlet and the largest independent reggae label in the world, distributing songs for Sean Paul, Shaggy, Buju Banton, Maxi Priest, Marcia Griffiths, Wayne Wonder, Mavado, Beenie Man, Shabba Ranks, Lady Saw, Patra, Tanto Metro & Devonte, Super Cat, Richie Stephens, Chris Martin, Romaine Virgo and Spice among others. He has also guided the label to Billboard's "Best Independent Label" (2002 and 2003) and "Best Reggae Imprint Label" for three consecutive years. VP has achieved international acclaim for Sean Paul, Wayne Wonder, Bunji Garlin and Elephant Man through major label contracts with Atlantic Records, RCA Records, Virgin Music Canada and Bad Boys Records. In recent years, VP has expanded its portfolio to include the distribution of Soca music and concert promotions, co-producing successful Jerk festivals in New York and Washington DC.
In his short but passionate speech at the Reception, Chris said he was honored and humbled to be recognized. He thanked those who had helped him along the way, especial his father Vincent and mother Pat Chin (Miss Pat) who beamed as her son spoke.
'From he was 7 years old, I could tell he was destined to be in the music business' his mother gushed. 'The music business is tough but he has persevered because of his personality that endears him to everyone."
The long list of award winning/nominated albums in the VP Records catalog includes Gyptian's Hold You (2010 Soul Train Award Winner), MOBO award winners for best reggae act; Mavado Gangsta For Life (2008) and Grammy nominated  albums – Shaggy's Intoxication, Elephant Man's Let's Get Physical, Dennis Brown's Let Me Be the One, Gregory Isaacs' Private & Confidential, Beres Hammond's Music is Life, Luciano's A New Day and Capleton's Still Blazing among others.
The private reception concluded with stellar performances from Dean Fraizer, Carlene Davis, Capleton, Queen Ifrica, Etana, Nadine Sutherland, Ibamar, Karissa, Tony Rebel, Bongo Herman among others. VIP guests attending the shindig included former Prime Minister of Jamaica, the Hon Edward Seaga; Dr Carolyn Cooper, UWI; tour manager Copeland Forbes; artiste managers Robert Livingston & Ms Kemp; producers Donovan Germaine & Clive Hunt; TV host Winford Williams; Rev. Canon Calvin Mcintyre (NY); Rev. Canon Serrano Kitson (Jamaica); Janice Julian, Caribbean Food Delights; Andrea Daley, Team Jamaica Bickle and a host of family, friends and well wishers.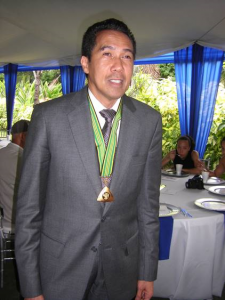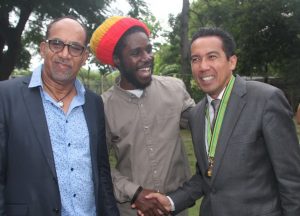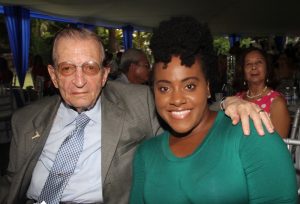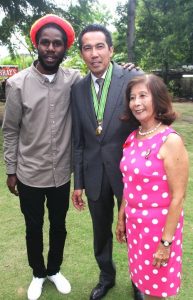 photo credit – Steve James