Paul Keens-Douglas Brings Mr. Tim Tim and Characters to Toronto for a One Day Concert with Dance Caribe Performing Company!
The Caribbean's foremost storyteller, and internationally famous Paul Keens-Douglas, aka Mr. Tim Tim, travels from Trinidad & Tobago to Toronto for a one day, two show concert, at Riverdale Collegiate Institute in the heart of the City.
Presented by TTCODA under the patronage of the Acting Consul General of the Republic of Trinidad & Tobago, Mr. Tim Tim, the master storyteller whose stories transcend age and ethnicity, will present two shows that centre around social commentary. He is known for infusing humour into his social commentary, and fans are looking forward to hearing Mr. Tim Tim's many characters give their Caribbean perspective on sports, Caribbean people arriving at the airport, family situations, politics and the list goes on.
Keens-Douglas is also the founder of the Carnival Talk Tent where storytellers and talkers from around the Caribbean roll with laughter and give standing ovations as they give views on topics that cover every aspect of life.
Based on feedback from shows right here in Toronto, as far north as England, through the U.S. and across the Caribbean, Toronto audiences will enjoy every minute Keens-Douglas is on the stage. A winner of 30 awards to date from places like England, the U.S. and across the Caribbean, Paul is now in his 35th year of writing, performing, and producing his work. He covers the spectrum of books, CDs, and DVDs for both Adults and children.
On June 30th a book signing will take place at A Different Booklist. Fans have the opportunity to meet and greet with Keens-Douglas ahead of his July 15th performance. Books, CDs and DVDs will be available.
Joining Paul Keens-Douglas will be the world renowned dance troupe Dance Caribe Performing Company. Founded in 1989 by Martin Scott-Pascall and under his direction, the company presents diverse dance styles in traditional and contemporary form, with focus on Caribbean Cultural Aesthetics.
Dance Caribe has traveled to Hong Kong, the Caribbean, across the US and Mexico in the name of dance, Dance Caribe continues to wow the audiences.
Their performance at the Olympic Games in British Columbia and the Pan Am Games with Cirque du Soleil in Toronto are ranked as some of the most memorable for audiences.
Known for their larger than life leaps and thrusts, their bright and vibrant coloured costuming as well as live drumming and music, Dance Caribe will ignite attendees.
2017 marks the Troupes 28th anniversary, making the July 15th presentation special.
"We are really excited to bring this presentation to the people," said event organizers Henry Gomez, Amah Harris and Francis Jeffers. "Cultural presentations such as this do not come to our City often enough, so for Paul to be here in concert with Dance Caribe Performing Company, and with the support of the Republic of Trinidad and Tobago Consulate, is as special as it is rare. Everyone should come out and enjoy this show."
Tickets are available at Eventbrite.ca (ttcoda.eventbrite.ca), A Different Book List (777 Bathurst Street), and Drupati's (1085 Bellamy Rd). Tickets can also be bought by phoning: (647) 340-4998; (416) 839-2442; (647) 225-8977. Ticket Prices: $35.00 Early Bird, $40 at the door, and $15 for children 12 and under.
*About Paul Keens-Douglas:*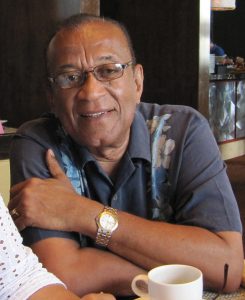 Active in drama from an early age, Paul Keens-Douglas has a wide and varied background in Theatre and the Creative Arts. He became committed to addressing social and political issues through storytelling filled with humour, after he heard Miss Lou tell her side splitting stories in Jamaica. Since his return to Trinidad in 1974, he has focused on highlighting the Trinidad & Tobago and Eastern Caribbean vernacular in dramatic presentations and advertising, as writer, performer, and producer.
Over the years he has become a leading exponent of the oral traditions of which his annual Tim Tim Show and Carnival Talk Tent have become hallmarks.
An international performer, Paul makes regular tours of the Caribbean territories and metropolitan countries, entertaining and educating audiences with his marvelous, humor, wit, poetry, storytelling, and social commentary.
*About Dance Caribe:*
Dance Caribe Performing Company (DCPC) has a strong performing history within the Caribbean Canadian community. Over the years they have maintained a very active participation in multicultural, international festivities and connivance's throughout Ontario, Québec, British Columbia, USA, Hong Kong, Mexico and the Caribbean Islands of Dominica Antigua, Barbados and Trinidad & Tobago.
The dance company represents Caribbean Culture for many Canada Day events as well for charitable organizations like the Toronto Sick Kids, Markham Stouffville Hospital, and Caribbean Children Foundation to name a few. DCPC received numerous awards at multicultural and international festivals and was voted as the Best Caribbean Dance Group at the 2012, 2013 and 2016 Caribbean Music and Entertainment Awards and Scarborough Urban Hero Award winner for 2014. These represent some of the high points of the group's achievements over the years.