New Video – SOJA "I Believe" (VH1.com Premiere) – Album Drops Aug 12
SOJA Releases Official Music Video For "I Believe"
Featuring Michael Franti And Nahko on VH1.com
New Album Amid The Noise And Haste
OUT August 12th (ATO Records) – Pre-Order Now
OVER 1.5 Million Downloads / Streams On New Tracks From Upcoming Album!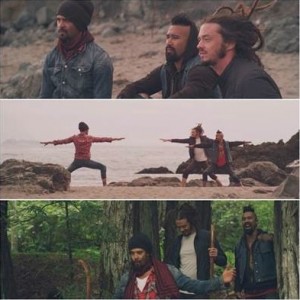 "The transcendental appeal of the Washington, D.C.- based SOJA has as much to do with their simply and traditionally constructed reggae tunes as it does with their universally appealing messages of hope and peace…"–Relix
"…reggae, infused with strains of rock, folk and dub, provides a complementary framework for lead singer/songwriter/guitarist Jacob Hemphill's sinewy vocals and poignantly drawn lyrics of social resistance, environmental consciousness and personal reflection…"
–Billboard
"The lineup of vocalist/guitarist Jacob Hemphill, bassist Bobby Lee, percussionist Kenneth Brownell, keyboardist Patrick O'Shea and drummer Ryan Berty has grabbed attention with its positive message and high-energy shows for more than six years." –Pollstar
DC-natives SOJA premiered the official music video for their lead single "I Believe" featuring Michael Franti and Nahko on VH1.com. The video was directed by MTV VMA winning, Grammy nominated filmmaker Jon Jon Augustavo who has more than 1 billion views combined for music videos with Macklemore & Ryan Lewis, Tinie Tempah and Big Freedia.
Watch new video here:
http://soja.vh1.com/
When creating the concept for the video, Director Jon Jon Augustavo says "'I Believe' is about finding an appreciation for life and your fellow human again. I wanted to make a video that showed these three guys being stuck in an unideal situation but then finding a certain sense of happiness and oneness with it. I wanted to show them finding peace with each other and just embracing what life gives you."
"'I Believe' is about life; being kind to others and making the most out of the time we have with those that surround us," says lead singer / guitarist Jacob Hemphill. "Whether we are family, friends or strangers, how we treat one another and energy we share dictates our existence."
The track is off the band's fifth full-length album Amid the Noise And Haste out August 12, 2014 via ATO Records. "I Believe" along with the rest of the album was produced by multiple GRAMMY award winning Jamaican producer Supa Dups (Bruno Mars, Eminem, Rihanna, John Legend). This is the first full-length album he has chosen to take on in his career. The new album is the follow up to critically acclaimed Strength To Survive which debuted in the Billboard Top 40. Amid The Noise And Haste features special guests including Michael Franti, Damian Marley, and Collie Buddz.
Amid the Noise and Haste reached the #1 album (pre-order) on iTunes Reggae Charts and has 4 songs in the Top 10 iTunes Reggae Charts including the #1 spot with "Easier."You can pre-order Amid The Noise And Hastenow via the band's website as well as iTunes and instantly download "Shadow," "Easier," "Your Song" and "I Believe" (feat. Michael Franti and Nahko).
SOJA originally formed by a group of friends while still in middle school and has built a massive, dedicated fan base around the world since. In the years following, SOJA has sold more than 250,000 albums, headlined shows in over 20 countries around the world, generated over 3.4 million Facebook fans, and 200+ million YouTube views. The band has toured with Dave Matthews Band, Incubus, 311 and appeared at major festivals including Bonnaroo where they attract an almost Grateful Dead-like international fan base along the way, with caravans of diehards following them from city to city.
SOJA's Soulshine summer tour kicked off in California and continues in amphitheaters across the country through August. See below for the full routing with Michael Franti & Spearhead, Brett Dennen and Trevor Hall.
The band recently announced THREE album release shows in August: The Hamilton in Washington D.C. on August 12th; Brooklyn Bowl in New York on August 14th; and the Troubadour in Los Angeles on August 19th.Every ticket purchased to any one of the album release shows will include the digital delivery of SOJA's new album Amid the Noise and Haste plus 5 bonus tracks (18 tracks in total).
For more information on SOJA and the upcoming tour, visit http://sojamusic.com.
Stream and post "I Believe" using the following link:
Amid The Noise And Haste Track listing
1. Tear It Down
2. Your Song (feat. Damian Jr. Gong Marley)
3. I Believe (feat. Michael Franti and Nahko)
4. Easier (feat. Anuhea and J Boog)
5. Shadow (feat. Trevor Young of SOJA)
6. Once Upon A Time
7. Promises And Pills (feat. Alfred The MC)
8. Signature
9. She Still Loves Me (feat. Collie Buddz)
10. Wait
11. Better
12. Treading Water
13. Lucid Dreams (feat. Nahko)
SOJA Tour Dates:
% with Michael Franti & Spearhead, Brett Dennen, Trevor Hall (Soulshine)
July 29 Boca Raton, FL @ Sunset Cove Amphitheater %
July 30 St. Augustine, FL @ St. Augustine Amphitheater %
Aug 1 Atlanta, GA @ The Masquerade %
Aug 2 Nashville, TN @ Woods Amphitheatre %
Aug 3 Cleveland, OH @ Midwest Reggae Festival
Aug 12 Washington D.C. @ The Hamilton (Album Release Show) – SOLD OUT!
Aug 14 New York, NY @ Brooklyn Bowl (Album Release Show)
Aug 19 Los Angeles, CA @ Troubadour (Album Release Show) – SOLD OUT!
Aug 22 Hilo, HI @ Hilo Tennis Stadium
Aug 23 Kauai @ Kilohana Plantation
Aug 29 Maui, HI @ Maui Arts and Cultural Center
Aug 30 Honolulu, HI @ Waikiki Shell
Sept 7 Arrington, VA @ Lockn Festival
Sep 24 London, United Kingdom @ Electric Ballroom
Sep 26 Paris, France @ Le Bataclan
Sep 27 Amsterdam, Netherlands @ Melkweg
Sep 28 Cologne, Germany @ Live Music Hall
Sep 30 Luxembourg, Luxembourg @ den Atelier
Oct 2 Hamburg, Germany @ Mojo Club
Oct 3 Berlin, Germany @ Yaam
Oct 4 Warsaw, Poland @ Proxima
Oct 5 Prague, Czech Republic @ Lucerna Music Bar
Oct 7 Milan, Italy @ Tunnel Club
Oct 8 Zurich, Switzerland @ Komplex Klub
Oct 10 Montpellier, France @ Victoire 2
Oct 11 Lyon, France @ Transbordeur
Oct 12 Bordeaux, France @ Rock School Barbey
Oct 14 Barcelona, Spain @ Razzmatazz
Oct 16 Lisbon, Portugal @ Meo Arena
Oct 17 Porto, Portugal @ Coliseu
Oct 18 Madrid, Spain @ Sala But
Oct 19 Toulouse France @ Le Bikini
Oct 21 Dublin, Ireland @ The Academy