Legal Counsel Workshop


Be Part of Our Program

Legal Counsel Workshop is designed specifically to educate emerging artists about the business aspect of the industry. This program pairs entertainment lawyers with young artists who are on the brink of emerging, or, who have already debuted. The goal of this workshop is to inform participants of the legal aspects of the entertainment industry and to provide accurate insight of the business end of the music industry. Participants will be able to ask relevant questions and ascertain the primary focus of a contract beneficial for artists, as well as key terms to be aware of. By participating in this program, young artists will be able to gain a better prospective of their legal obligations and rights.
 5 Music Workshops will be done for the year. First one April 26th
Admission is Free, Space is Limited, Register Now
Information is Priceless
Tropicalfete's Free workshop on Copyrights & Royalties
By Roger Meltzer, CEO & Director of A&R, Capsicum
Saturday April 26th 2014 | 2:00PM – 5:00PM
rsvp@tropicalfete.com | 646-504-3383
Herbert Von King Cultural Arts Center
670 Lafayette Avenue
Brooklyn, NY 11216
Cross Streets: Marcy & Tompkins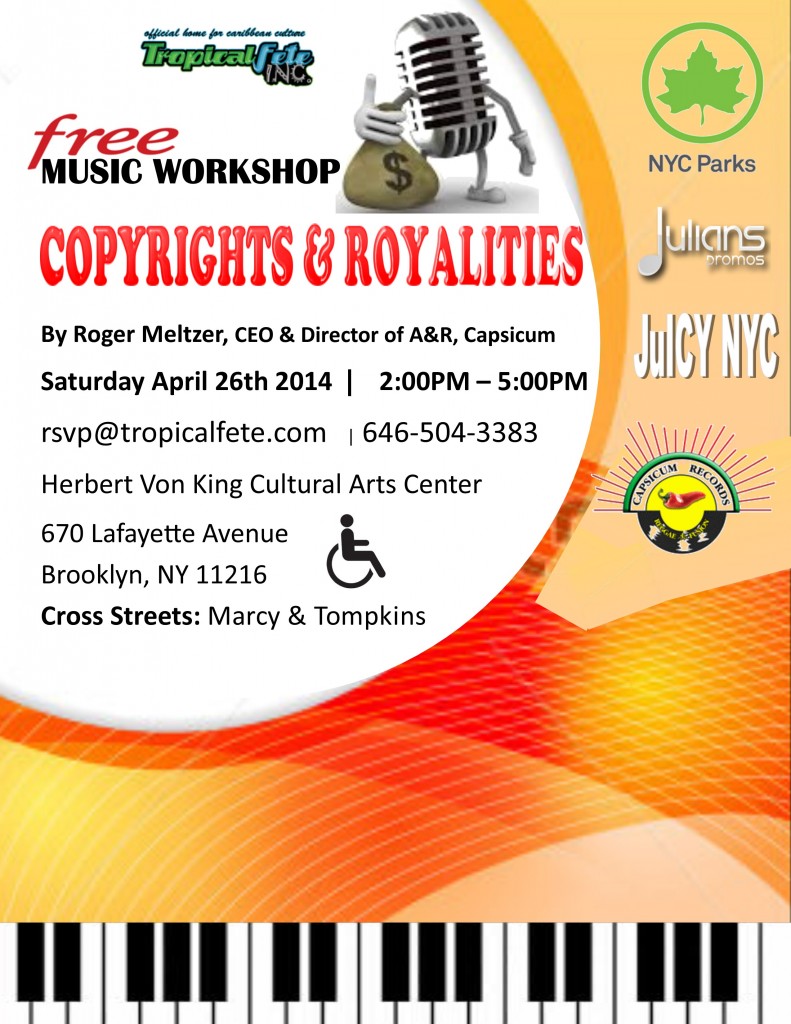 Train: A to Hoyt Schermerhorn then G to Nostrand Ave (ride the front of the train) walk 1 block East
Bus: B43 northbound to Lafayette Ave. & Throop Ave. walk 3 blocks west or B43 Southbound to Lafayette Ave & Tompkins Ave. walk 1 block west, or B38 Eastbound to Lafayette & Marcy Ave. or B38 Westbound to Dekalb Ave & Marcy, walk 1 block south or B52 to Gates & Marcy Ave. Walk 4 Blocks north
Subjects to cover at the workshop
What You Don't Know Can Hurt You: An Introduction to Royalties
1. Which is better, work-for-hire or royalties?
2. Definition: Residual income derived for various work done in the recording industry
3. Who derives residual income for various work done in the recording industry?
a. Copyright owners
i. Writers
ii. Publishers
b. Artists
c. Producers
d. Labels
4. What is the difference between a PA and an SR – what can/can't you copyright?
5. Who pays royalties – to whom and for what?
a. Mechanical
i. CD sales
ii. Digital downloads
iii. What is the Harry Fox Agency
b. Performance Rights Licensing
i. How are performance rights licensing fees tabulated
ii. Airplay
iii. Concerts
iv. Clubs
v. Background Music – elevators, supermarkets
vi. Affiliation with BMI, ASCAP, JACAP, SESAC, PRS, COTT, ECCO
Why affiliate?
What's the difference between the 100% and 200% formulas
What does Sound Exchange do?
6. What does the fine print in contracts say and what does it mean?
a. Exclusive
b. Advances
c. Recoupment
d. Cross-collateralization
7. What is different about Capsicum Records?/Capsicum Music?
[contact-form-7 id="4500″ title="Music Workshop"]