Dr. Witty aka Mervyn Carter Tropicalfete's 2015 recipient of Tropicalfete's Award of Excellence
Congrats to Dr. Witty aka Mervyn Carter Tropicalfete's 2015 recipient of Tropicalfete's Award of Excellence. The award honors the accomplishments & contributions of persons and/or organizations that have had a role in the development of the Caribbean Community. The achievement of the awardees is significant on an international level where their work had a positive impact to the Caribbean community in the areas of culture, social, sports & economics. Past awardees: The Madd Stuntman – Artist – I like to Move it Move it 2009, Michelle Anglin – Playwright "Lost my Heart in Haiti" 2010, Patricia Meschino – Journalist Billboard Magazine – 2011, Diosa Joseph Tropicalfete Member – 2012, Richie Richardson – Designer – 2013, Reggae Retro Cultural Promoters 2014.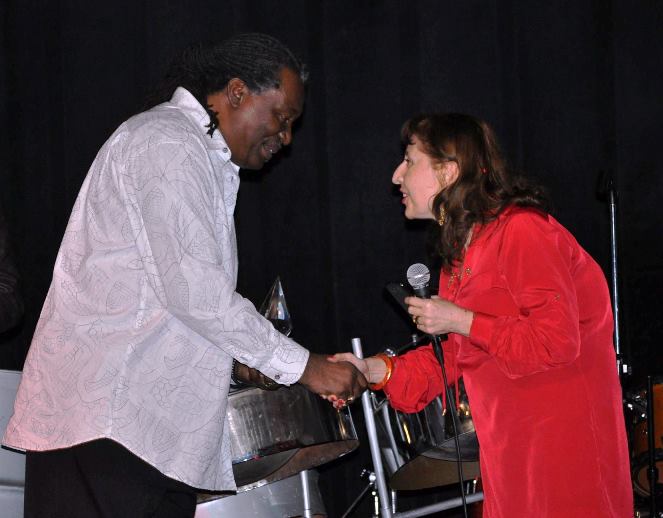 Dr. Witty was born Mervyn Carter in San Fernando, Trinidad, where he started singing Calypso on the streets, at just 10 years old; he continued writing and singing throughout his teenage years. He served seven years with the Trinidad and Tobago police service before migrating to the United States where he continued composing calypsos but he gave those songs to other artists to sing. Then in 1990 he wrote "A Statue For Jean" and decided to sing it himself, which charted a new course in his career. Whether it is a song for himself or another artist, Mervin's calypsos are characterized by their humorous lyrics, hence his sobriquet-Dr. Witty. Past awardees:
Dr. Witty has been chosen the winner of the Calypso Monarch competition in New York for many years, a title he has won in several US cities including Boston, Washington, Baltimore and Orlando.
For the past five carnival seasons Dr. Witty has appeared at the Kaiso Revue Tent in Port of Spain, Trinidad. A former President of The Calypso Association of New York, Dr. Witty believes that calypso is the greatest music in the world and he is doing his best to keep the deeply rooted cultural art form alive.