Dancehall Slayer Stein Unleashes Two New Hits
Dancehall slayer Stein unleashes two new hits with "Jah Is Always There" and "Turn Me On," now available worldwide from all major digital retailers (released April 1, 2016), from FOX FUSE. Both tracks were produced by Stein's very own label, the Kingston-based New Planet Records, and have been gaining momentum on dancehall platforms, from Jamaica to Europe.
"Jah Is Always There" and "Turn Me On" deliver Stein's signature dancehall sounds. The former is a slower, inspirational tune to encourage us to keep the faith as we encounter struggles in life, while the latter is an up-tempo party anthem, meant to keep you on the dance floor.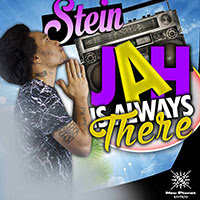 Stein made a name in the dancehall game as a prolific lyricist, penning tunes that both entertained and provoked. Early on in his career, he inked several hits for numerous dancehall giants including Bounty Killer and Beenie Man. His talents have since nurtured and matured over the years, as are evident on such versatile songs as these two.