MULLUM Music Festival has released its first artist announcement for their 11th event.
Travelling from all corners of the world to rock Mullumbimby, one of the artists announced is Jamaican mystical reggae, dancehall and dub artist Jah9.
Janine Elizabeth Cunningham, known as Jah9, was born in Montego Bay in Saint James, Jamaica.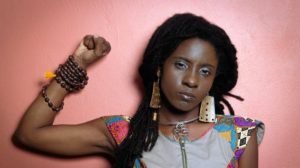 Her father was a Baptist minister and her mother was a teacher and social worker.
She spent much of her childhood in Falmouth, Trelawny, but in 1991 the family moved to Kingston.
After a period studying at university, she realised her musical passion.
Her music is often described as 'jazz on dub', because her singing voice is influenced by Nina Simone and Billie Holiday, partly combined with the dancehall sound of Sizzla and the more violent dub rhythms similar to those of Augustus Pablo.
In 2013 she released her first album, New Name appeared.
Her second album, titled 9, was released in 2016.
Love Has Found is her latest album, released last April.
Also on the line-up is the electrifying Nigerian Tuareg guitarist and songwriter, The Sultan of Shred, Bombino with his band.
Joining them for the first announce are Afro-Caribbean dub maestro Mad Professor, Australian folk/electronica singer songwriter Gordi, Japan's ministers of superheavy funk Osaka Monaurail, Irish electro-folk duo Saint Sister, uplifting gospel-blues 'Sacred Steel' outfit the Turner Brown Band, New Guinea-born hip-hop neo soul artist Kaiit along with Mullum favourites the indomitable roots duo Hat Fitz and Cara and beloved troubadour Jordie Lane.