In celebration of the annual 4/20 holiday, "High Society Reggae", a digital compilation of new ganja themed songs will be released on April 20th, 2018 on Dub Rockers, an imprint of VP Records. In addition to the anticipated release, two events will be held in Los Angeles and Brooklyn that same week.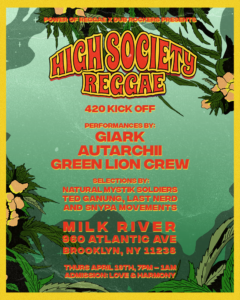 "High Society Reggae" is set to become a staple for ganja and reggae lovers with music from Alborosie, Macka B and brand new tracks by New Kingston with "A Likkle Bit Ah Herb" featuring Rebelution's Eric Rachmany playing lead guitar. The Simpkin Project's new, self-produced "Meditation" is another standout track. The son of legendary Jamaican producer Bobby Digital, Giark's "Papi" includes production credits from Bobby Digital and members of the Grammy nominated Raging Fyah. The album also features Shinobi Ninja, Through The Roots, Irie Souljah, Autarchii, Soul Rebel Project, Lion Fiyah, and Green Lion Crew who recently released the 'Life Over Death' remix project with Chronixx.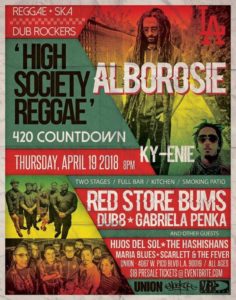 Celebrating the album release with two launch events on April 19th, Alborosie will be performing at Union Club in Los Angeles, California (Tickets), while in Brooklyn, NY, Giark, Autarchii and Green Lion Crew will be performing at Milk River (Tickets.) Complimentary "High Society Reggae" rolling paper will be given to patrons in attendance.
"In staying true to the Dub Rockers mission, the High Society Reggae album was compiled to showcase the bridge between contemporary inspired deep roots as well as always keeping an eye on the future for progressive and alternative reggae," said Ted Ganung, project manager and A&R of the project.
Tracks
Giark- 'Papi'
New Kingston- 'Ah Likkle Bit Ah Herb' by
Auarcthii- Cure My Pain'
Alborosie- 'Dub 420'
Blind Prophet Ft. Tenor Youthman, Numa Crew- 'Numa Crew Burns Capitalism'
Irie Souljah- 'Elevate Your Thoughts'
Through the Roots- 'Bloodshot Eyes'
Soul Rebel Project, Green Lion Crew- 'Medi' (feat. Lion Fiyah)
Macka B- 'Natural Herb'
The Simpkin Project- 'Meditation'
Shinobi Ninja- 'Ill Ish (Dub Remix)'