Port of Spain, Trinidad and Tobago January 25, 2018: With intriguing flair synonymous with the stylish brand, Campari has launched its Caribbean Campaign Come Together in Trinidad & Tobago. The campaign's key visual was presented at a launch on Wednesday, January 24 at the VAS Lounge in Port of Spain. The brand is distributed in Trinidad and Tobago by AMCO, and its brand influencers are "The Viking" Bunji Garlin, and dancehall sensation Shenseea currently for the region.
The television commercial follows an alluring woman, played by media personality Amita Persaud-Webb, who personifies Campari as she moves through a daytime salubrious and sensory Caribbean landscape into the energy of the night. She concludes her journey at a community bar where her presence adds a spark of life to the social moment happening around her. Awaiting Amita is male lead actor Jeff Crosley, a brooding, mysterious drifter who is missing just the energy that is supplied with the arrival of Campari.
Shot on-location in the Caribbean, the visual is the fruition of collective vision led by Campari Group's Caribbean operations, Exposure, an advertising agency in New York, and Berlin, Germany based director, Duncan Winecoff of Epoch Films. Duncan, who focuses his energy on commercial and narrative work, draws inspiration from life experiences, encapsulating the auspicious, the beautiful and the haunting, while incorporating the science of empathy into his filmmaking.
Kamal Powell, Marketing Manager for the brand in the region, believes that the charisma and passion of the brand is interwoven throughout Amita and Jeff's journey to 'Come Together':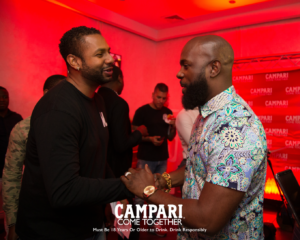 "Come Together is about the warmth of the Caribbean people: how we socialize; we like to Come Together to relax, to party, to enjoy cocktails.  And Campari is a versatile spirit that can come together with many ingredients to enhance your favourite cocktail or make your own unique cocktail. This visual really captures our vision by appealing to the senses, and demonstrating Campari's role in driving an enigmatic but compelling energy."
He continued: "We are pleased with the final product and wish to extend thanks to the director, Duncan Winecoff, Exposure, our internal and external team, and to our extremely talented, one hundred percent local production talent who brought this vision to life."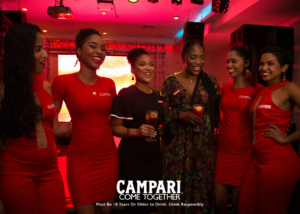 Come Together is the first campaign of its kind for Campari in the Caribbean, and featured a creative and production consisting of a diverse Caribbean, American, and European workforce, with all shooting locations in the Caribbean. The campaign comes on the heels of an active 2017 for the brand in the Caribbean, which consisted of the recently concluded Win A Trip to Trinidad Carnival 2018 promotional campaign, and the signing of brand influencers Bunji Garlin and Shenseea.
The launch event also provided a sendoff for Brand Influencer Bunji Garlin who jets off to Milan, Italy on Sunday January 28. Bunji Garlin and wife Fay-Ann Lyons will represent Campari Caribbean at this year's staging of the Campari Red Diaries.