Kingston, Jamaica: It came as a surprise for eight-year-old Aljarno Patric Campbell and his family when his artwork 'Radiant Earth' was selected to be used as the graphic for tickets to the second staging of Mount Plenty Organics' Farm to Table charity event: A Fusion of Food Art and Goodwill.
"I'm just so proud of him," says his grandmother Pamela Brown. "It's a shame his mother never got a chance to see how talented he is."
Aljarno's mother succumbed to her cancer diagnosis less than three years ago. He currently lives with his grandparents in Union – a short distance from Laura Facey-Cooper's Mount Plenty Farm in Orange Hall, both in St Ann. Facey-Cooper had hosted another of her annual Orange Hall summer schools in summer of 2016, where Aljarno attended for the first time. The third child of four to his mother, the bubbly young boy was excited to express his emotions on paper.
"Auntie Laura gave me crayons and paint… My favourite colour is green and I used green, red, blue, orange and purple to colour 'Radiant Earth'," says Aljarno.
Aljarno used crayons as his medium to represent the earth with spheres of definitive colours framed in red.
"I feel glad", is what he says when asked how he feels to have his work chosen to be on the tickets to the charity event.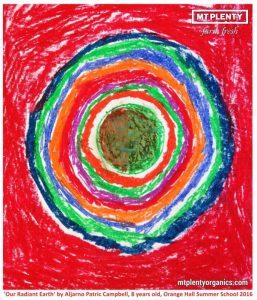 Facey-Cooper explains that: "The summer programme is sponsored by the Cecil Boswell Facey Foundation. It's about bringing the arts to children who don't have it in their schools. We engage about 30 to 50 children from the surrounding environment and they do interesting things like tie-dying, drawing with crayons and pastels and paint and making costumes for Junkanoo Dancers. We dream up all sorts of exciting things."
According to Pamela Brown, she has every intention to send him to Facey-Cooper's summer school in 2017 and beyond.
"I don't even think his school [Exchange Primary] knows how talented he is. They do not have an art program. Other people in the family are talented but I will support him," says Brown.
On Sunday, November 6, art enthusiasts will have the opportunity to acquire unique works from local artists; including the works of Facey-Cooper who is a renowned sculptor. Food-loving patrons will be treated to rustic, gourmet vegetarian dishes made from organic local produce; exquisite Jamaican offerings from Chef Jacqui Tyson; refined rural fare from Hermosa Cove's Chef Conroy Arnold; and world-class offerings from Moon Palace Jamaica Grande Executive Chef Dennis McIntosh.
Patrons will also enjoy, for their US$80 or JMD$10,000 contribution, the musical stylings of The Jolly Boys.
The afternoon in Orange Hall, St Ann forms part of the fundraising activities for C.B. Facey Foundation, the charitable arm of Pan-Jamaican Investment Trust Limited. This year, C.B. Facey Foundation hopes to raise $10 million. Last year's staging of Mount Plenty Organics' Farm to Table event raised $5.8 million for the institution.
Tickets are available at F&B Swiss Stores, Harbour Street, Kingston; Cannonball, Loshusan; Uncorked; Cellar 8, Upper Manor Park; Tea Tree Creperie as well as from cbfaceyfoundation.org and mtplentyorganics.com.
About C.B. Facey Foundation at Boys' Town
The C B Facey Foundation has been the charitable arm of Pan-Jam for over 30 years. The Foundation is helping to shape the society by investing in the arts, the environment, and education.
The main thrust at Boys' Town Infant and Primary School, situated in the Trench Town community of Kingston, is to transform the quality of education at the school, making Boys' Town a model school by 2020. This project will be an example for public and private partnerships within the Jamaican education system.