VP RECORDS CELEBRATES 50 YEARS OF ROCK STEADY WITH COMPREHENSIVE 40-TRACK COLLECTION  FIRST CLASS ROCK STEADY
 
Highlighting The Genre's Most Timeless Hits and Its 
Significant Impact in Jamaican Music
 
Available July 1 on International Reggae Day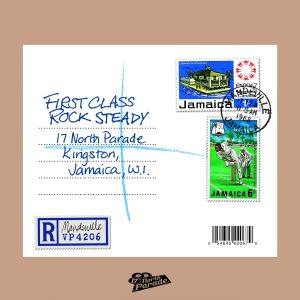 2016 marks the 50th anniversary for Jamaica's celebrated musical genre rock steady.
Rock steady, which was a successor of ska and precursor to reggae, used elements of rhythm and blues (R&B), jazz, ska as well as African and Latin American drumming.With its irresistible slow tempo beat and more bass-heavy, stripped-down sound, it was a distinct contrast from the more upbeat, big band ska era. Although it lasted only a couple of years (1966-68), rock steady is one of Jamaican music's most influential genres and produced immortal rhythms that are still sampled and used today.
17 North Parade, VP Records' vintage imprint, commemorates the genre this year with First Class Rock Steady, a limited edition vinyl-only box set (exclusive for 2016 Record Store Day) and its CD and digital companion piece that features a more comprehensive 40-track collection (available July 1st). 17 North Parade will celebrate the release in conjunction with International Reggae Day (also on July 1). Details will be announced later this week.
The LP's detailed cover and CD sleeve reflects the excitement of the era when postal mail was the only mode for sharing this burgeoning Jamaican export for worldwide consumption. Playing off of Jamaica's long history of tourism, the album's packaging also features images of picturesque postcards and stamps of Cricket (a Jamaican pastime), the Doctor Bird (national symbol) and Montreal's Expo '67 (World's Fair).
In addition, the remastered collection's packaging includes extensive liner notes written by Harry Wise and filled with quotes from the genre's key players, including living legend Bunny "Striker" Lee, Trinidad and Tobago's late-great Lynn Taittand the 2014 fallen icon, Hopeton Lewis.  Rock Steady was also popularized by the likes of Alton Ellis, Desmond Dekker, Johnny Nash, Errol Dunkley and vocal harmony bands like The Gaylads, The Maytals, The Heptones, The Paragons, The Sensations and The Melodians, all featured on this extraordinary historical set.
VP Records Co-Founder Patricia Chin remembers the time clearly. "Rock Steady was a time when Jamaican music really came alive. Sound systems were booming and artist competition was fierce. It dramatically changed the music landscape, similar to how dancehall transformed reggae's prominent sound at the time. Rock Steady music was also great for lovers because it spawned more slow dancing styles and really allowed people to connect."
At the time, Patricia and her husband Vincent Chin owned and operated Randy's Records, Kingston's burgeoning record shop and recording studio located on 17 North Parade (hence the name for VP Records' vintage imprint).  She adds, "when Rock Steady emerged, Jamaica knew we had something really interesting in the culture and that was music."
TRACK LISTING DISC 1
1. Take it Easy-Hopeton Lewis
2. Hold Them – Roy Shirley
3. I Am Lonely-The Heptones
4. Dance All Night-The Tartans
5. Rock Steady-Alton Ellis & The Flanes
6. Ba Ba Boo,m-The Jamaicans
7. Pata Pata Rock Steady-Patsy & The Count Ossie Band
8. Last Train To Expo 67-the Melodians
9. I'm A Loving Pauper-Dobby Dobson
10. Please Stop Your Lying-Errol Dunkley
11. Return Home-Alva Lewis
12. Just Like A River- Stranger Cole & Gladdy
13. El Casino Royale-Lynn Taitt & The Jets feat. Cool Sticky
14. Dreader Than Dread-Honey Boy Martin & The Voices
15. The Return Of Ezekial-The Jupiters
16. Live And Love-Carlton Manning
17. Last Train To Ecstasy-The Melodians
18. You're Gonna Need Me-Errol Dunkley
19. Born To Love You-The Sensations
20. Sounds And Pressure- Hopeton Lewis
TRACK LISTING DISC 2
1. You Don't Care-The Techniques
2. Little Boy Blue-Pat Kelly
3. Left With A Broken Heart-The Paragons
4. ABC Rock Steady-The Gaylads
5. The Beatitude-The Uniques
6. Revelation-Alva Lewis
7. A Change Is Gonna Come-Ken Parker
8. The Russians Are Coming-Val Bennett
9. The Great Musical Battle-Derrick Morgan
10. The Big Takeover-The Overtakers
11. I Am The Upsetter-Lee Perry
12. Musically-Keith Blake
13. Lonely Heartaches-The Clarendonians
14. Napoleon Solo-Lynn Taitt & The Jets
15. Intensified-Desmond Dekker And The Aces
16. Got To Get Away-The Paragons
17. Hold Me Tight-Johnny Nash
18. Long Time Me No See You-The Sensations
19. Seeing And Knowing-Stranger Cole & Gladdy
20. Darling Jeboza Macoo-Stranger Cole
###
// PRESS ASSETS //
First Class Rock Steady (Please keep music private):
https://www.dropbox.com/sh/n4wfp8xu4klr1wd/AAC8IZuapuUa1nu2QEFAg3I0a?dl=0
PR Contact:
Tiffany Mea
Email: Tiffany@withlovepr.com
Cell: 619-606-1059
Twitter: @WithLovePR