Haiti Live Fest Announces Scholarship Program
Mavado will be presenting 40 scholarships to qualifying students in Haiti.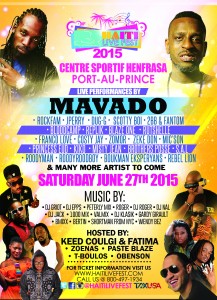 Delray Beach, FL: Executive Director of Haiti Live Fest, Inc. alongside Reggae/Dancehall Icon Mavado will be presenting 20 one-year scholarships for the 2016 – 2017 academic year to qualifying students in Haiti.
Haiti Live Fest Inc. is comprised of private investors and artist with vast knowledge and contacts within the music/entertainment industry. The coordinators of Haiti Live Fest, Inc. use their experience to host benefit concerts, events & fundraisers for the Caribbean & South America Regions; raising awareness in the Caribbean & South America to help local communities grow as a society.
The core business of Haiti Live Fest, Inc. is to conceptualize, program and deliver a unique experience for the Haitian Community. Working together with the Top DJ's and artist in the world; aiming to deliver what most people have not experienced before. Haiti Live Fest is more than an event; it is an experience to be remembered as one of your best memories.
A world class festival presented by world class sponsors all to position students to be able to obtain higher education and benefit their society by being a world class student.
"Haitian youth come first to me" says first lady Sophia Martelly, aware that Haiti's youth are the country's future; Haiti Live Fest would like to create avenues to teach and mentor the younger youth for a better Haiti.
What: Haiti Live Fest Announces Scholarship Program to students in Haiti
Who: Haiti Live Fest & Mavado
When: June 27, 2015
Where: Centre Sportif Henfrasa, Delmas 33 Port-au-Prince, Haiti
Contact: DMarie Blanchett | Dmarie@haitilivefest.com | 561-572-8901