Missed Carnival? No Worries, Calling All Soca Fans to Kings Theater in Brooklyn!!!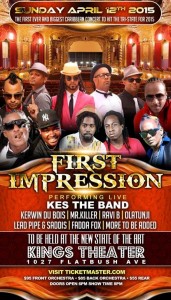 Didn't make it to Carnival this year? Have no worries as The First Ever and Biggest Caribbean Concert to hit the tri-state area for 2015 brings you Kes The Band, Kerwin Du Bois, Ravi B, Olantuji, Lead Pipe & Saddis, Fadda Fox and more to be added!
This star studded lineup is sure to quench your soca thirst as it features such acts as one of the Caribbean's most popular and sought after bands KesThe Band who will perform "Wotless", "Endless Summer", "Look Fuh Dat", "Tuesdays on the Rocks", "Stress Away" and "Where Yuh From" among many of their other hits singles, Trinidad's popular star Kerwin Du Bois with his mega hit "Too Real", "Bacchanalist" and "Monster Winer", Chutney superstar Ravi B "Ah Drinka", "Dulahin" and "Flowing", Olatunji "Wining Good", "Ola" and "Wah Do", Mr.Killer "Rolly Polly", "When We Reach" and "Panty Dropper" and a host of stars who will bring fête on Sunday, April 12th, 2015 to the new state of the art Kings Theater in Brooklyn, New York.
Get your tickets early, bring your flag and get ready to sing, wave, sweat and jump up all night!
SUNDAY APRIL 12th, 2015
KES THE BAND, OLATUNJI, MR. KILLA & RAVI B,
KERWIN DU BOIS, LEAD PIPE & SADDIS & MORE.
Venue: KINGS THEATRE
1027 Flatbush Ave. Brooklyn, NY 11236
DOORS OPEN: 6:00PM – SHOWTIME: 8:00PM