Outstanding Success! CARIBANA™ Flags and Colours
Unites Jane and Finch Community with the Children and
Toronto Mayor Rob Ford, Mayor Candidates Olivia Chow and John Tory!
Toronto, Canada
The community of Jane and Finch showed its true colors in Toronto as children and their parents paraded along Shoreham Drive in bright and beautiful costumes as a part of the annual CARIBANA™ Flags and Colours parade.
Walking the parade route from Shoreham Drive to Yorkgate Mall, children in all age ranges enjoyed a day especially designed for them, celebrating the art of costume making and display. Along the parade route, Mayor Rob Ford and mayoral candidates Olivia Chow and John Tory jumped in, waving flags and having a good time prompting one junior reveler to say "this is the best day!"
Designed by Martin Scott Pascal of Dance Caribe, all costumes were bright and colourful and held the fascination of children and parents alike. One parent had three children in the parade and said, "I can't believe we were able to get these costumes for $25.00 each. To see my kids have so much fun and feel so special, I'll be back next year!"
Costumes were also designed by Sherene Jattan of Toronto Police Services diversity division.
Henry Gomez, GM and Artistic Director for CARIBANA™ Flags and Colours said this year's turn out "was one of the best." He estimated that over 200 children participated in the parade, as well as parents, friends and family. We also had quite a few spectators, so we are happy with the turn out." Erika Enyolu, Marketing Manager for Yorkgate Mall added, "The CARIBANA™ Arts Group did an outstanding job and greatly increased visibility for the community and the mall. We can't wait for next year!"
Mayor Rob Ford, and mayoral candidates Olivia Chow and John Tory have made it clear that no matter what the outcome of the municipal election, they will continue to support the Jane and Finch community and CARIBANA™ Arts Group by declaring their partnership with both.
Also present at this year's festival were Ward 8 Councillor Anthony Perruzza, Trinidad and Tobago Consul General, Dr. Vidhya Gyan Tota-Maharaj, Inspector Riyaz Hussein from Toronto Police Services 31 Division, members of the Toronto Catholic District School Board (TCDSB), the Jane and Finch Boys and Girls Club, JFCCO, and other community groups.
Junior Reveler wearing a costume designed by Martin Scott Pascall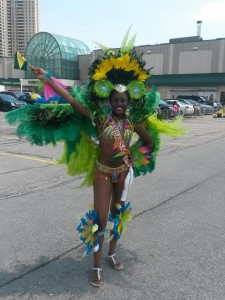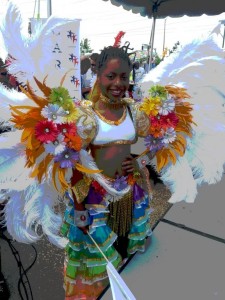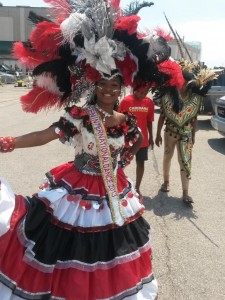 Toronto Police Officers with Junior Revelers!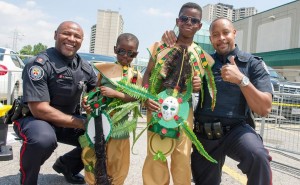 Toronto Mayor Rob Ford and CAG Artistic Director Henry Gomez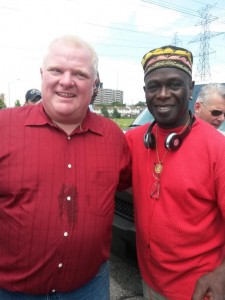 Toronto Mayoral Candidate Olivia Chow