NEW YORK, NY, – Just 11 days before award-winning, New York-based artist Monty Alexander releases his new album, the jazz virtuoso is set for a scintillating performance at the Brooklyn Center for the Performing Arts at Brooklyn College.
The Jamaican-born, Grammy-nominated performer and his band Harlem-Kingston Express are set to raise the roof in the Caribbean-populated borough of Brooklyn on Saturday, March 29, 2014 from 8 p.m.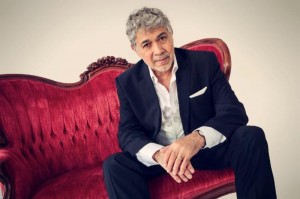 "We are bringing a party that will fuse the smooth sounds of jazz classics with the infectious rhythms of reggae to create a singular sound unlike any other for our fans at the Brooklyn Center for the Performing Arts this weekend," said Alexander, whose 'Harlem-Kingston Express Vol. 2: The River Rolls On' album will be released on April 8th on the Motéma Music label.
Hailed as "an effervescent pianist and one of Jamaica's proudest musical exports" by the New York Times, Alexander will take the Harlem Kingston Express on the road beginning this June for a 12-city tour that will include New York to Washington, D.C., Seattle, Colorado, California, Maryland and New Jersey.
His new album encapsulates the many moments in Alexandera's remarkable career and finds him returning to its earlier stages: both his teenage years, when he played on sessions helmed by pioneering reggae producers Clement "Coxsone" Dodd, Duke Reid and Chris Blackwell, and his first decades in the U.S., when he had the occasion to record and perform with icons such as Frank Sinatra, Milt Jackson and Ray Brown, among countless others.
The album features "Love Notes," with Alexander and his friends George Benson, Ramsey Lewis and Joe Sample; a live version of Bob Marley's "Redemption Song," recorded live in 2005 with vocalist Wendel Ferraro; previously unreleased live recordings of the Jamaican folk song "Linstead Market;" Alexander's "Regulator (Reggae-Later)," as well as a mix of interpretations including "People Make the World Go Round," "What's Going On" ("Wa'a Gwan") and Jimmy Cliff's reggae landmark "The Harder They Come."
2014 TOUR SCHEDULE
June 12 – New York, NY – B.B. King Blues Club w/ Harlem Kingston Express
June 13 – Washington, D.C., Howard Theater w/ Harlem Kingston Express
July 24-27 – Seattle, WA, Dimitriou's Jazz Alley w/ Harlem Kingston Express
August 1 – Telluride, CO, Telluride Jazz Festival w/ Harlem Kingston Express
August 2-3 – Denver, CO, Dazzles w/ Monty Alexander Trio
August 7 – Vail, CO, Vail Jazz Festival w/ Monty Alexander Trio
August 8-9 – Aspen, CO, Aspen JazzSnowman w/ Harlem Kingston Express
August 10 – San Jose, CA, San Jose Jazz Festival w/ Harlem Kingston Express
August 30 – Easton, MD, 6th Annual Monty Alexander Jazz Festival
September 13 – Salt Lake City, UT, Capitol Theatre w/ Harlem Kingston Express
November 8 – Cape May, NJ, Jazz Festival w/ Harlem Kingston Express
ABOUT MONTY ALEXANDER
In a career spanning five decades and with 70 recordings under his belt, Alexander has built a reputation that bridged the worlds of American jazz, popular song, and the music of his native Jamaica to create his own musical brand.
His collaborations span multiple genres, styles, and generations and he has performed globally with renowned artists including Dizzy Gillespie, Frank Sinatra, Charlie Parker, legendary bassist Ray Brown, Natalie Cole and Tony Bennett among numerous others.
In August 2000 the Jamaican government awarded Alexander the title of Commander in the Order of Distinction for outstanding services to Jamaica as a worldwide music ambassador. And in 2012, 'Harlem Kingston Express: Live!,' was singled out by both the recording industry and fans and received a Grammy award nomination.
In the summer of 2012, Alexander was also awarded the prestigious German Jazz Trophy, "A Life for Jazz" while in November of the same year, he received the Caribbean American Heritage Luminary Award from the Institute of Caribbean Studies in Washington, D.C.