Midilord Inc. takes great pleasure to announce that Camille Kaye's debut album entitled "Solstice" is now available in stores.
Camille Kaye has released her much anticipated debut album "Solstice" which has been released independently by MidiLord Inc. on June 21st 2013. The album has a mix of Reggae, Dancehall, Hip Hop, and R&B. "Solstice" is available in online stores like iTunes, Amazon, Google Music Store, Rhapsody, and Shazam just to name a few.
Camille Kaye's sound is an eclectic mix of reggae/dancehall mixed with R&B/Hip-Hop. The production for Solstice comes from various producers spearheaded by Camille's Manager/Producer Duane "Midilord" Summers (former Production Manager and Engineer for Sean Paul).
"I love Camille Kaye dj (chant)style," Jeremy Harding-Producer and former manager for Sean Paul.
"Camille has something the world needs to hear, and with her passion at persistence it's likely to be heard sooner than later." –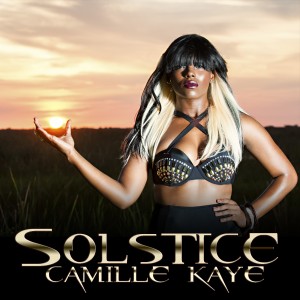 Born in Kingston, Jamaica, on October 15th 1989, Camille Kaye the enviable quadruple threat, possesses a velvet vocal instrument enhanced by training she received at the Wolmer's Dance Troupe and Xaymaca Dance Company in Kingston, Jamaica, as well as Florida International University where she was awarded a Bachelor of Arts in Dance with Honors. Her professional singing career really started with an introduction to Dancehall producer Supahype of 007 Music. She worked with him along with other local producers in Jamaica until leaving for Florida to attend Florida International University in 2007 which she has graduated from with honors in dance. While attending FIU, Camille worked with Dancehall producer Nynex of Calibur Entertainment who produced "Ring Di Alarm". Then she met Duane "Midilord" Summers, former production manager and engineer for Dancehall/Reggae superstars Sean Paul and Shaggy. Midilord produced her first iTunes release, "Trouble", as well as all the tracks on both of her mixtapes "Bad Nuh…!", and "24Kaye". Both mixtapes earned nominations at the Official Mixtape Awards in the UK two years in a row.