One Mic, the Artistic Movement continues to raise the bar. On Wednesday, April 10th One Mic (NY) will feature Reggae songstress Etana.
Known to many as the reggae soul artist infused with beauty, positivity and strength, Etana has currently released her 3rd album "Better Tomorrow" This album primarily produced by Shane C. Brown of Jukeboxx Recordings, is an example of Etana "moving ahead from struggles of yesterday on a musical journey that uplifts the mind, body and the raw soul" as she explains on her intro of the single "Spoken Soul".
One Mic, the Artistic Movement is estactic to feature the return Etana to New York after with a new found clarity. "Its been four years since Etana has graced the New York area and we guarantee this LIVE Acoustic, Unplug performance will be a performance to remember" says Ronnie Tomlinson, one of the producers of One Mic.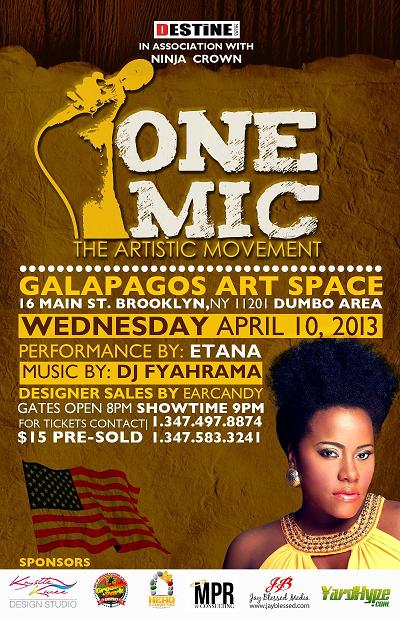 As One Mic, the Artistic Movement continues to grow and with the recent onboarding of Groovin in the Park and Head Cornerstone Media, this movement is gaining momentum. With an event and platform like no other in the tri-state area, One Mic, the Artistic Movement (NY) is set to infuse the city with great live concerts.